Payoneer Review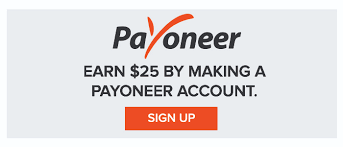 Sign UP + $25 Registration Bonus
Payoneer Sign UP plus $25 Registration Bonus
If you don't have access to PayPal or don't want to use PayPal because of its policies/fees and charges or whatever the reason may be Payoneer is one of the best platforms for you.
Sign up now and Earn $25 after completing the requirements.
The reason that I recommend Payoneer is the simplicity of sending & receiving cross-border payments without going through so much hustles and end up worrying about losing your money.
Most of us wants to make money online and the only way to get paid by our clients who requires a payment gateway and the only online payment solution that I found most convenient is Payoneer. Registration is totally free and low fee for sending money compared to other online payment providers.
Registering Payoneer Account is actually totally free which means you don't need to pay anything. Also, it will help you to get Payoneer MasterCard you can use to make online or offline purchases or withdraw money at ATMs across the world.
Is Payoneer Scam?
NO! Payoneer is not a scam and I have been using it and have withdrawn thousands of dollars through its Payoneer MasterCard and bank account and never have I encountered any issue with it. Also, if you get any problem with it, then Payoneer have many ways to provide support like Live Chatting, Email Support & Forum support that will help you fix your issues & concerns.
For me the best part of Payoneer is that it provide you with a US Bank Account or other places that you can use to receive payments from clients and they can also issues a Free Payoneer MasterCard that you can use to pay online or in-store purchases. You can also withdraw your Payoneer funds using any ATM allover the World.
Providing Service in 200+ Countries
If you are from a country that cannot apply for PayPal but with Payoneer, you won't need PayPal as Payoneer is one of the best alternatives to PayPal
Local Bank Transfer
Payoneer lets you transfer your Payoneer balance and funds to your country'S local Bank Account which will not only help you reduce the Transfer Fees with good exchange rate. I always recommend the use of Local bank transfer option when withdrawing funds from Payoneer account.
Funds ATM Withdrawal
The Payoneer MasterCard will able you to withdraw funds from your Payoneer account any time anywhere across the world where the Logo of MasterCard is Accepted.
Multiple Currencies
Payoneer accepts over 150+ currencies meaning you can make transactions in over 150+ currencies and also you can keep the money in your Payoneer account in multiple currencies .
Account Requirements
Payoneer requirements.
At least 18 years old.
Have a Local Bank Account
A National Identity Card, Passport or Driving License.
You must be in a country where Payoneer is accepted.
Follow these steps to Register For Payoneer.
Click the HERE to visit Payoneer registration page.
Then click on the Sign UP button to go to the sign up page.
Fill in the sign up form with accurate details such as Email Address, City address and Bank account details.
Submit your registration form and wait for 3 to 4 days.
Your application will be reviewed and be notified about the status of your account.
If your account is approved, you'll be able to log in & manage your account.
Payoneer Fees
Payoneer does not charge you anything for the basic account you create. However, it will for any service you use such as ATM transaction using Payoneer MasterCard. Also, when you receive payments from any client or transfer payments.
Multiple Payoneer Accounts?
No, it is strictly prohibited by Payoneer so do not try to open or own multiple accounts under one name .
Payments to Companies from Payoneer?
Yes, Payoneer can be used to make online payments to companies worldwide.
Can I send Payments to Other Payoneer Customer?
Yes, Payoneer lets you send and receive payments from other Payoneer customers without any charge using the Request a Payment option.