Gigi De Lana: A Star in the Making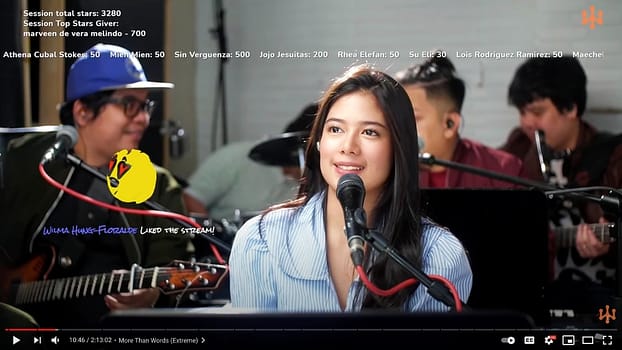 A new face has made rounds on the Internet these days and she is another face of Filipino talent and capabilities.
Gigi de Lana is a rising Filipina YouTube singer and former contestant of Its Showtime's "Tawag ng Tanghalan". Her fame recently sky-rocketed after a YouTube video of her bandmates pulling an impromptu prank on her went viral. The clip being shown isn't only fun to watch but also amusing as you can see the full display of her vocal range and power, going from one key to another key higher. Today, Gigi has amassed 1.58 million YouTube subscribers and 256k followers on Instagram.
Her ticket into fame did not actually come from this clip but from as far as 2016. As previously stated before, Gigi was a contestant in "Tawag ng Tanghalan" a segment of the noontime show "It's Showtime". In its first season, the then-20-year old singer dominated a portion of the show's run, beating and becoming the defending champion for some time.
Gigi Vibes, which comprises Gigi and her band, has come a long way. They've had their jamming sessions even before the pandemic struck, setting up gigs here and there. Gigi even live-streamed occasionally in her Facebook account and posted some clips on her YouTube channel. And with the pandemic locking everyone inside, she resumed doing live streams in late June 2020. At first, she was only with her pianist Jon Cruz, but with the succeeding live streams, other bandmates joined in, officially labeling their streams "Gigi Vibes".
Their early live streams didn't have many viewers but with their consistency in their schedule and the quality of music that they brought to the table, their audience grew larger with every single stream. They raised funds to support themselves through song requests from the viewers that can be paid through e-commerce apps like G-Cash or PayPal. This was not mandatory but many of the viewers were eager and happy to listen to their requested song.
There were times where Gigi and the band had to take absences due to personal and health reasons, but they soon returned for another season of Gigi Vibes in September 2020.
Now that we have talked about Gigi and her career, let us take a peek at the star herself.
The Filipina performer Gigi was born with the name, Mary Gidget Dela Llana in Calamba, Laguna. On September 24, 1995, which would mean that she is now 25 years old. Aside from her singing career, she also made her acting debut in 2020's 'Four Sisters Before the Wedding'. She also works under Rise Artist Studios as a business model.
As her viral prank video exemplifies, she has a very powerful voice and is very versatile. Another feature that you might have noticed about her is that she is very gorgeous. She has both talent and looks, but it would be wrong to say that she is the only one who carries the Gigi Vibes single-handedly. Her very talented and equally versatile bandmates are also unique, entertaining, and very funny. As they have been friends for a long time, their laughs and conversations are very genuine. Their chemistry together makes the viewer feel like they are just jamming with their friends. You can see that they genuinely care and love each other like family as they also enjoy what they're doing
So, what makes their live streams so appealing?
As I have stated before, Gigi vibes give off a somewhat authentic vibe that makes the audience feel comfortable. Their streams are great for people missing the atmosphere of bars and lounges with acoustic gigs playing in the background. The schedule of their streams also ensures that the setting is somewhere where you can relax and just enjoy the show. The band is also very interactive with their viewers, acknowledging not just the paying requesters but also the general audience of their live streams. Sometimes they go off tangents on a certain topic brought up and the audience can chime in with their comments. The whole set-up truly promotes inclusion towards everybody involved.
A recent development in Gigi Vibes' social media was on July 15-16, where her Facebook page was temporarily closed down by Facebook due to unknown reasons, but the issue has been resolved after a day of the closure. They've also created another Facebook page and YouTube channel with the reason being that their audience is becoming a lot larger recently.
Gigi de Lana not so long ago expressed her enthusiasm for collaborating with Filipino rap icon Gloc-9, seeing him as an authentic artist. Furthermore. She stated that she wanted to be a part of the Sunday musical variety show "ASAP Natin 'To", where she already made her appearance as a guest. For the time being, it seems that Gigi is still striving for a much better life, making strides, and working hard to achieve her goals.
Gigi de Lana and the Gigi Vibes' stream is a great way to enjoy your late nights. The star is a promising and talented showbiz potential that has looks, talents, and personality. Gigi holds great potential with her powerful voice and charming personality. So if you want to see an up-and-coming sensation, watch and follow Gigi de Lana and the Gigi Vibes!
Gigi de Lana Facebook:
https://www.facebook.com/gigidelanaofficial
https://www.facebook.com/gigidelanaofficial
Gigi de Lana and The Gigi Vibes Facebook:
https://facebook.com/gigidelanagigivibes
Gigi de Lana YouTube:
*UPDATE: FOR UNKNOWN REASON TO ME HER VIRAL YOUTUBE CHANNEL WITH MORE THAN 1.5 MILLION SUBSCRIBERS AND MILLIONS OF VIEWS WAS TERMINATED AND GONE AS OF THIS WRITING. PLEASE SUPPORT HER NEW CHANNEL BELOW.
Gigi de Lana and The Gigi Vibes YouTube:
https://www.youtube.com/channel/UCs6KnZM_27Z5RZz3buwSfrA